Sales / CRM
>Sales / CRM >Document Management / Knowledge Base >Request Manager / Support Ticketing >Asset Manager >Recruiter >Purchasing Request / Expense Management >Defect Tracker
The Sales CRM application provides complete coverage of your entire sales process. It can help your sales reps collaborate better and work smarter. Obtain a 360 degree view of your opportunities and accounts. Manage your contacts, issues and tasks.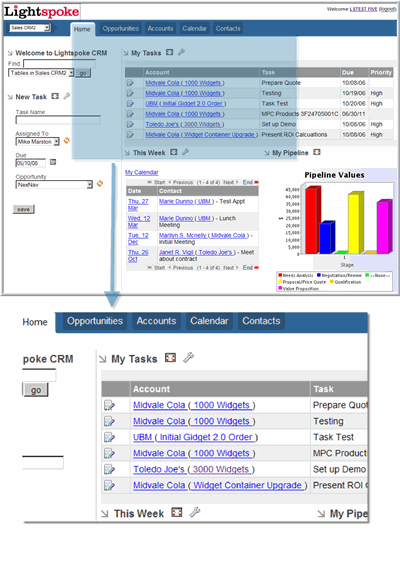 A complete sales solution that is accessible everywhere:
The Lightspoke Sales CRM web application helps your team work smarter and faster throughout the entire sales process.
From prospecting to lead conversion, proposal to close, our Sales CRM solution is there when your team needs it. Team members can track tasks associated with opportunities and issues associated with existing accounts.
Since our solution is securely available anywhere on the Internet, your team will never be far from quickly finding important information about accounts and opportunities.
Reporting and management tools for managers
Customizable views provide managers ability to view the current sales pipeline, identify stuck opportunities, obtain a complete view of all tasks and issues at hand for the team.
Since Sales CRM tracks your entire sales process, new sales reps can quickly obtain needed information on existing accounts.
Instantaneous deployment and installation
The Lightspoke web application platform requires no IT infrastructure. The basic Sales CRM application can be deployed in minutes with a few simple clicks. Since the application is already in a template format, all you need to do is apply it!
A solution to grow with your organization
Templates are just the beginning of what Lightspoke can offer your teams. You can continue to make modifications to the application after you have applied the template. The solution can grow with the fast changing demands of your environment. Since modification of the templates do not require programming experience -- and only takes minutes to change, YOU are in control of your application!
Sales CRM Features:
Manage Sales Processes: Easily customize your sales process from lead to close. Gain visibility into your team's progress in real time.
Manage Tasks and Opportunities: Enable your team to sell together by tracking the tasks involved from lead to close.
Manage Issues: Increase repeat business by effectively managing issues associated with existing accounts.
Manage Accounts: Get a complete picture of all the activity associated with various accounts.
Sales Pipeline Analysis: Allow every team member to instantly gain insight into the group's sales pipeline. Manage change faster and with better information.